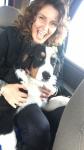 I have been teaching at Webber for 21 years now and love it. I am all about helping students discover the fun in science and how making observations, asking questions, creating labs and collaborating with others makes them great scientists and citizens. For 8 years, Willow, Webber's Therapy dog, has been by my side helping to lower stress and anxiety in the classroom. Willow is my 8 year old Bernese Mountain Dog/Mix and she brings joy and extra love to students and staff who need it. She is certified as a Alliance of Therapy Dog worker and is tested yearly.
What I love the most about teaching are the students.
What is your education background and experience?
Education: In 1992, I graduated from Ohio State University with a Bachelor's Degree in Science focusing on Allied Medicine in Respiratory Therapy. I spent 10 years working as a Respiratory Therapist at The Cleveland Clinic's Pediatric Intensive Care Unit. I also instructed Lakeland Community College students during their intensive care rotations at the clinic. I received my Masters Degree in teaching and leadership from Colorado State University in 2022.
What are your favorite hobbies or interests outside of school?
Outside of school, I enjoy being active outside, either walking, hiking, paddleboarding with friends or spending time with family are some things I enjoy doing. The water is where I find a lot of joy. I also love art and creating new things.
Courses Taught
In the last 21 years I have taught Biology, Math, 6th, 7th and 8th grade science, underwater robotics and science adventures . In 2023, I will be stepping down from the Science Department Head role but will continue with the chemical coordinator role, coaching, Alliance of Therapy Dog Handler and Joy Committee.