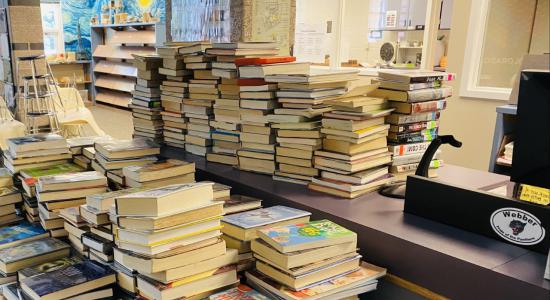 Missing Library and Textbook information:
What to do if your student has lost a book and how do you know?
Your student *may* have received an email notifying you of a lost library book fine. Listed in the body of the email is the title of the book/material and the price of the book.
All items checked out to your student's account can be found using the OPAC system. Log in with student username and password. All materials are listed under:
My Account > My Borrowing
be sure to check both fine and loan.
https://lib.psdschools.org/Library/Home
Now what?
It is your student's responsibility to return the listed materials. Students may return both media center and classroom novels at our curbside checkout location. We have a Library return tub located near the building doors by the South bike racks 8-3 on weekdays. They may also return the materials to the front office between the hours of 8 to 3 on weekdays.
If your student has library books they checked out from last school year, you may notice they have been marked lost and a fine is associated with those books. If you can locate the book, we'd love to get it back for the next student! Just return and we can remove the lost fine. We will even happily take your elementary library books and send them back for you!
If the materials are truly lost, you may pay for the materials via SchoolPay. https://www.psdschools.org/schoolpay
If you see a lost/damage fine on your student's account, but it is not showing up in SchoolPay, please email: webberms@psdschools.org and we can work with Webber's office manager to get it added to SchoolPay.
• Media and library books: webberms@psdschools.org
• Textbooks and classroom novels: please contact that specific teacher