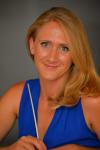 What is your education background and experience?
I graduated from Palisade High School in Palisade, CO, attended Colorado State University for Music Education, student taught and spent my first year teaching general music on the Western Slope of Colorado for one year. In 2013 I moved back to Fort Collins to begin my Masters degree in Music Performance with an emphasis in conducting. Since then I have been teaching and leading music in schools, churches and community groups along the front range.
What are your favorite hobbies or interests outside of school?
I enjoy mountain biking SO MUCH! Biking anywhere is a great way to sustain health and at the same time, see our beautiful state of Colorado.
At home I relax by maintaining the garden with my neighbor and my husband, and playing with the dog in the yard or at the river.
What do you love most about teaching?
I believe the best part about being a teacher is observing students develop their independent learning. The more students learn the more questions they have. It is a joy to see the student's intrigue and efforts to increase knowledge.
Courses Taught
Jazz Orchestra
Symphonic Orchestra
Concert Orchestra
Beginning Orchestra
Photography