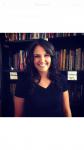 Reading, writing, and communicating are some of the most valuable skills one can master. I love to teach because I love to empower young people while building meaningful relationships. Also, I am an educator that stands for educational equity.
About My Classroom
Educational equity works towards valuing what every learner brings to the classroom, including their backgrounds, beliefs, educational experiences, intelligences, expectations, perceptions, identities, biases, and learning styles. Equitable education requires teachers to evaluate their curriculums and to uncover the hidden curriculums embedded in their classroom content. The pedagogy of an equitable classroom focuses on critical thinking and attends to sociopolitical relationships. Learning that is centered around students and assessments that are authentic create the most empowerment and equality for all learners.
What is your education background and experience?
I attended Colorado State University for my undergrad degree. I also earned my master's degree in Educational Equity and Cultural Diversity from CU. I am endorsed as a CLD teacher.
What are your favorite hobbies or interests outside of school?
- Cook
- Run
- Hike
- Yoga
- Camp
- Read
- Eat
- Laugh
- Love
What do you love most about teaching?
I love working with the youth and helping them to grow as learners and as people!
Courses Taught
- ** This is my 8th year teaching, and my 6th year teaching 7th and 8th grade language arts at Webber.
Other Courses Taught:
- English 9
- English 10
- United States Literature
- Modern Literary Perspectives
- World Cultures
- Creative Writing
- Freshman Seminar