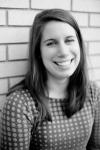 About My Classroom
My goal is to create a classroom space where we are all excited to learn and feel supported being ourselves. We will explore the world around us through inquiry, individual investigation, and collaborative experiments.
What is your education background and experience?
I am a proud PSD graduate and am thrilled to be teaching in my home district! I attended Bowdoin College in Brunswick, ME and received my BA in Anthropology and Chemistry. After returning to Fort Collins and working for a local non-profit, I realized my passion for teaching and received my M.Ed from CSU. This will be my 7th year teaching Science, and I am excited to also be teaching Math this year!
What are your favorite hobbies or interests outside of school?
I love the Colorado outdoors - hiking, biking, camping, anything outside! I also enjoy cooking, reading, finding great new tv series, and spending time with my family.
What do you love most about teaching?
I love exploring the natural world and helping students discover the magic in everyday events and processes. I get excited about discovery in the science classroom and the realization that the smallest questions can lead to the greatest investigations.
Courses Taught
I teach Science 8 and Math 8, and enjoy exploring how math and science work together to help us gain understanding of the world around us. Additionally, I teach Environmental Education (Green Class) and Math Support ELOs at Webber. I also coach Science Olympiad with Ms. Bradford!