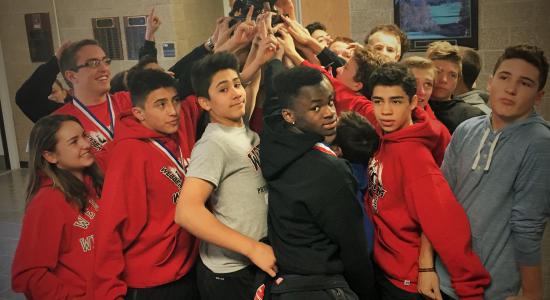 The Webber Wrestling season will officially begin in January of 2022 but a pre-season camp for the 6th, 7th, and 8th graders will take place this fall on the following dates:
Nov. 10th, Nov. 15th, Nov. 17th, Nov. 22nd, Nov. 29th
Dec. 1st, Dec. 6th, Dec. 9th
The camp will run on these days in our East Gym from 3:00-4:15pm. No physical form is required for the camp. Interested athletes should wear shorts, t-shirt and wrestling shoes if you have them. (Webber can provide some shoes if needed).
No previous wrestling experience is necessary. As a matter of fact, most of our wrestlers don't start wrestling until middle school. We have weight classes from 70lbs-285lbs and you only wrestle others close to your own weight.
**7th and 8th graders will sign up for their wrestling season through the Webber Athletics website:
http://web.psdschools.org/athletics
A preseason camp just for 7/8th graders will start on Jan 10-14th and the team will begin official practices on Jan 18th, 2022.
** 6th graders sign up through the City of Fort Collins Recreation Department and wrestle on a team consisting of 3rd-6th graders. https://webtrac.fcgov.com/wbwsc/webtracrec.wsc/splash.html