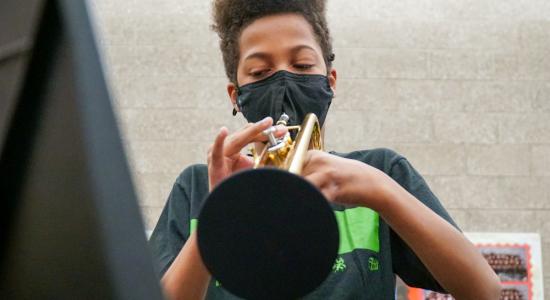 https://www.psdschools.org/news/performances-begin-2021
Webber's first concert in 20 months
"It's so exciting, because … we're acoustic musicians," Webber Band Director and Music Department Chair Jana Webster-Wheeler said, as her Jazz Band students packed up their instruments and traded places with the incoming Symphonic Band class one October morning at Webber Middle School. "It's being human at the most intimate level."  
Before diving into a technical warmup with chords and scales, Webster-Wheeler reminded students about their upcoming performance at Webber. 
"Your first concert, and the first concert here at the Webb in 20 months, is in two weeks," the 23-year PSD employee said, standing at a lectern with an "It's OK I'm with the Band" sticker. The announcement was met with eager nods of heads and a couple of cheers. 
Addison Schofield discovered her love for the baritone, or "tiny tuba," while visiting Webber in fifth grade. Now an eighth grader, Schofield said it is unnerving to think about getting on stage again, but she was excited for that "feeling of everyone watching you and showing what you've learned."  
Like so many of their peers in PSD, Schofield and percussionist Jordan Lucero, also an eighth grader, played in front of their computers during remote learning. Students were often asked to mute their device speakers, so they could hear themselves play, but they couldn't harmonize together. Teachers like Webster-Wheeler would later splice every student's parts together to make one concert recording, pulling off a miracle, her students say. And she wasn't the only one.  
"It kind of hurts to think about," Schofield said, remembering her beloved teacher's painstaking and much-appreciated work to create synchronization.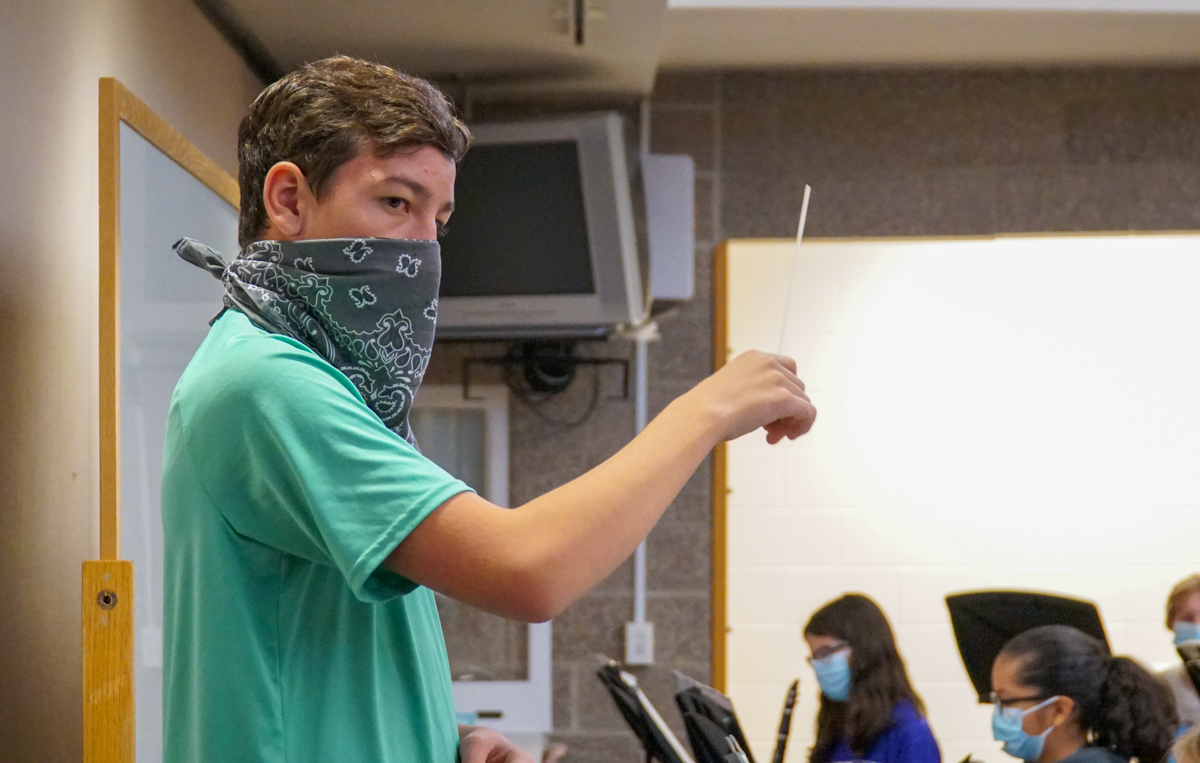 October 21:
6:00pm – 8th Grade Orchestra in Band Room (Audience will sit in cafeteria while ensembles play from the Stage of the Band Room.)
6:30 – 7th/8th Grade Velocity in Large Gym (Audience will sit on bleachers)
7:00 - 7:45 8th Grade Symphonic Band and 7th/8th Grade Jazz Band in Band room
November 2:
6:00pm - 7th/8th Grade Jazz Winds in Band Room
6:30 - 7th Grade Concert Band in Large Gym
7:00 - 7th Grade Concert Choir in Large Gym
7:30 – 8:15 - 7th Grade Concert Orchestra and 7th/8th Grade Jazz Orchestra in Band Room
November 16:
7:00pm - 6th Grade Orchestra in Band Room
7:30 - 6th Grade Band in Gym