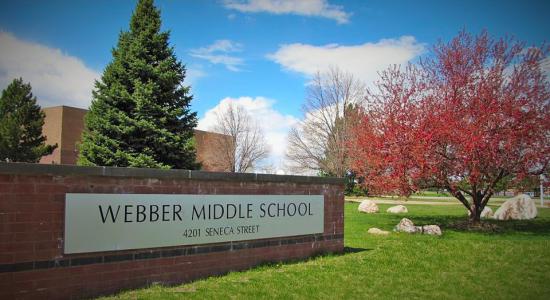 Welcome to Webber Info Sheet 22_23 
➢ Orientation and Check-In for NEW to Webber 7th & 8th Graders & Parents is
Friday, August 12th at 8:00 a.m-900 a.m.
o Pick up schedule, receive locker assignment, drop off supplies, and principal's welcome
o You can skip the payment window line by paying fees at https://psdschools.schoolpay.com

➢ Check-in times: Students and Parents can check-in online starting August 9th by logging onto Parent Vue. You will be able to see schedules, lockers info, update emergency contacts and parent email/phone. If you check-in online, you are welcome to come to school during your grade level check-in time to walk the building and put school supplies in your locker.

o In person check for 6th Graders is Friday, August 12th, 9:00-noon
o In person check in for returning 7th & 8th is Friday, August 12th, 1:00 p.m. - 3:00 p.m.
o Pick up schedule, receive locker assignment, and drop off supplies
o You can skip the payment window line by paying fees at https://psdschools.schoolpay.com

➢ All parents please log into ParentVue to ensure that you have a correct e-mail address, phone numbers, and emergency contacts on file with us. This is important so that you receive Webber e-mail communications & to e-sign the Code of Conduct

➢ First Day of School for 6th Graders is Monday, August 15th,7:50 a.m. -2:45 p.m.

➢ First Day of School for 7th and 8th Graders is Tuesday, August 16th,7:50 a.m. -2:45 p.m.

➢ School Picture day is Friday, August 19th

➢ Back to School Night for parents is on Thursday, September 1st at 6:00 p.m.
o Follow a shortened version of your students' schedule to meet teachers, learn about classes, and receive instructions on how to check grades online
➢ Bus Information can be found at: www.psdschools.org/programs-services/transportation
➢ Families are encouraged to apply for Free and Reduced meals for the coming school year starting on August 1st, 2022. Those who qualify for benefits are eligible for school fee/charge waivers. For the upcoming 2022-23 school year, students will no longer receive free meals unless they have been approved for the Free and Reduced Meals program. This is a change from last year (the 2021-22 school year) with free meals being offered to all PSD students. The program that helped make that possible (related to the pandemic) is ending.
For more information: https://www.psdschools.org/department/child-nutrition
Webber Middle School:
Main Office – 488-7800 Attendance – 490-3089 Website: https://web.psdschools.org
Webber Middle School Counseling Department:
Maria Ellis, Registrar: mellis@psdschools.org
Nick Worstell, 6th grade counselor: nworstell@psdschools.org
April Stutters, 7th grade counselor: aprils@psdschools.org
Tom Hicks, 8th grade counselor: thicks@psdschools.org